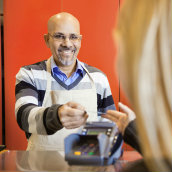 Merchant Services
Summary

Maple City Savings Bank has been a proud partner of Payment Processing Consultants since 2009. PPC is trusted to provide you, as a customer of Maple City, easy low cost credit card acceptance solutions. PPC is an accredited A+ BBB with a spot on Rochester's top 100 and unbeatable customer service.

Who We Are and What We Do

PPC makes it possible for your business to accept all non-cash forms of payment so you can grow, offer convenience and reduce accounts receivable. Our mission is to make easy what others complicate with nuisance fees and using jargon. PPC was founded in 1998 and has a proven track record of success both locally and nationally. We have transparent pricing, honest salespeople and are a Rochester Top 100 company. PPC has an A+ BBB rating, is endorsed by over 25 partners and is locally owned and operated. The bottom line is that we are accountable and will do what we promise.

How We Do It

If your business already accepts credit cards or any other service we offer we will provide a no cost detailed savings comparison that will show exactly what you will save using PPC. We will explain all of the rates and fees in an easy to understand way and we will make sure you pay the lowest possible amount. PPC offers state of the art PCI compliant processing machines, virtual terminals, chip-based solutions and mobile swipers.