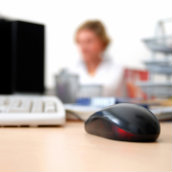 Phishing & Spoofing
Protect yourself from phishing attempts.
At Maple City Savings Bank, Information Security is our number one priority!
You will never be asked to furnish your account information to us via an email or any other electronic means. If you are ever asked to furnish any personal information via email, please ignore the request and delete the email and contact the bank immediately.
Phishing and Spoofing
The first documented use of the word "phishing" took place in 1996. Most people believe it originated as an alternative spelling of "fishing," as in "to fish for information" [source: Next Generation Security Software].
Phishing is the act of sending an e-mail to a user falsely claiming to be an established legitimate enterprise in an attempt to scam the user into surrendering private information that will be used for identity theft. The e-mail directs the user to visit a Web site where they are asked to update personal information, such as passwords and credit card, social security, and bank account numbers, that the legitimate organization already has. The Web site, however, is bogus and set up only to steal the user's information.
If you receive an e-mail that looks like it is from Maple City Savings Bank or another well-known company requesting financial information or any other personal or sensitive data, please take the following actions:
Treat the e-mail with suspicion.

Do not reply to the e-mail or respond by clicking on a link within the e-mail message.

Do not download anything or open attachments.

Report the suspicious e-mail to the FTC and forward the e-mail to uce@ftc.gov.
If you have already provided personal financial information via e-mail and feel that your Maple City Savings Bank accounts are in jeopardy, contact Maple City Savings Customer Service as soon as possible to report the suspicious activity. You can reach Customer Service by calling 1-607-324-1822 or via email at support@maplecitysavings.com.
Counterfeit websites (spoofing)
Online thieves often direct you to fraudulent websites via email and pop-up windows and try to collect your personal information. In many cases there is no easy way to determine that you are on a phony website because the URL will contain the name of the institution--this is spoofing. If you type or copy/paste the URL into a new browser window and it does not take you to a legitimate website, or you get an error message, it was probably just a cover for the fake site.
Another way to detect a phony Web site is to consider how you arrived there.
Maple City Savings Bank, FSB will not request personal information from you via email and any unsolicited request should be considered fraudulent and be reported immediately.