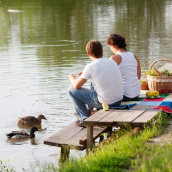 Additional Services
We offer many services to our valued customers.
ATMs
We offer a drive-up ATM free of charge and available 24 hours a day.
CASHIER'S CHECK
You may purchase an official cashier's check at our branch office.
DIRECT DEPOSIT
We provide direct deposit. Sign up using our routing number. Or call us or come by for more information.
NOTARY
For your official documents, we have an on-site notary available between business hours.
ROUTING NUMBER
The routing number for Maple City Savings Bank is 222371740.
WIRE TRANSFERS
Let Maple City Savings help you move your money. We offer same-day service for incoming and outgoing wire transfers. Ask us for more information.
SAFE DEPOSIT BOX
Protect your valuables from theft or natural disaster. Contact us to hear about our different sized boxes. Available for both personal and business use, with competitive prices and easy access during business hours.
COLLECTABLE COINS
We have a wide selection of collectible coins that make for fun and unique gifts. Currently, we're showcasing the National Parks and Presidential Dollars collections. Special order commemorative coins are available with engraving. Annual Silver Eagles and U.S. Mint Proof Sets are available by request.