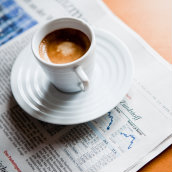 Recent News
Stay up-to-date on the latest news from Maple City Savings.
Merger Announcement
03/2019
Maple City Savings Bank and Steuben Consultants, Inc. form partnership effective April 1, 2019.
Business Casual
05/2018
Our employees will now be able to wear logo shirts everyday to help market the bank .
New Sign and TV Marketing
01/2018
We have added a beautiful new LED sign at our Main Office to display marketing messages. A new large screen TV has been added to the Lobby to display marketing messages to the customers that come in to visit with us.
Mobile Capture Available
12/2017
As of December 1st we are now offering Mobile Capture to all our Mobile Banking Customers.
New Online Banking and Billpay
03/2017
We have switched our core banking software which includes new Online Banking and Billpay. The new Online Banking provides some new tools like Manage My Money.
Whoville Decoration / Parade
12/2016
We hope everyone enjoyed the decorations and parade
Offering New Loan Types
07/2016
We are now offering FHA, VA, and USDA Loans
Chalk A Mile
06/28/2016
Maple City Savings donated the supplies to help support Hornell Partners for Growth's Chalk A Mile. News Article
Max Maple
04/22/2016
Our new mascot has been introduced on our facebook page. Look for him in upcoming parades and local events. Facebook
Kasasa Cash Back
03/25/2016
New Product Available - Click here for more info.
New CD Promotion
10/2015
5 Yr CD with a rate of 1.53% APY
N. Hornell Office
09/2015
One year anniversary for our second office. If you haven't seen it yet, stop by and visit the staff!
Online Banking Upgrade
09/2014
Click here for more info.
New Enhanced Debit Cards
09/2014
Click here for more info.
New Office
09/2014
Coming Soon...MCSB will be opening a new full service branch office in North Hornell to compliment our Main Office location. The Seneca office will have two drive-up lanes as well as an ATM lane for easy customer access.
Apply Online
07/2014
Let's start making your dream home a reality right now! MCSB's quick, secure online application helps you get started on financing a new home or on refinancing an existing home. Click here to begin!
Updated Website
11/2013
MCSB has implemented a new updated website which provides quick and intuitive access to our banking products allowing for existing and potential customers to find the information they are looking for easily.
Upgraded ATM
11/2013
MCSB has installed a new and improved ATM with an enhanced deposit features and it supports the new EVM security feature.
Do You Kasasa?
02/2013
New products that earn you money! Maple City Savings, where it pays to bank! Kasasa and Maple City Savings Bank deliver a total banking experience where the consumer wins – it's the perks without the sacrifice! Maple City Savings...YOU'VE GOT THE POWER!
eStatements Are Here!
01/2013
eStatements are electronic statements that replace your paper. You can now have online access to 18 months worth of eStatements as well as to the front images of canceled checks. eStatements are available through I-Bank, our online banking system. Once you are logged into online banking, click on the eStatement enrollment link and complete the enrollment form.
Don't have I-Bank? What are you waiting for? Enroll today!